It is a major issue that we don't hear a lot about : the differentiation of colors for blind people. Selecting a ripened vegetable or fruit, pencil color or clothes is always a gamble. For those who love culture, especially painting, this lake of colors is the worst thing ever. Without colors they have much difficulty distinguishing the shades and forms, the deepening of the meaning of each brushstroke.
But fortunately, the Chau Chak Wing Museum has understood the pain they are suffering. What a shame for a color-blind person to not be able to notice all the colors of a Dali or Picasso piece of work.
Since April, inside the University of Sydney, the Chau Chak Museum is trying a special pair of vision-enhancing glasses that promise color-blind people to help them see in a fuller range of color.
Thanks to a partnership with EnChroma, a creator of glasses for color blindness, guests can now borrow special glasses and experience exhibitions.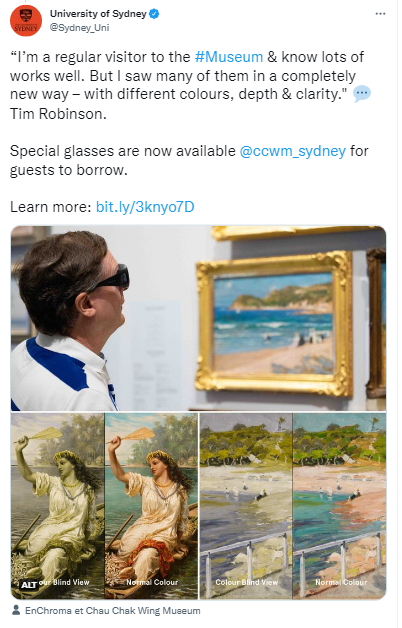 A step forward
According to an article by FuturaSciences, there is around one in 12 men and one in 200 women who can't tell the difference between some colors they can observe. It leads to an estimation of 350 million people worldwide. In Australia, that's over a million people. Plus, the purchase of glasses of this kind is very expensive, it can cost up to 550 $.
No other museum in Australia but the Chau Chak Wing Museum, offers the alternative of seeing paintings in a new way. The time where color-blind people saw dull colors, indistinct and difficult to discern is now over in the museum.The Sydney museum has collected words of the very first person who tried glasses : Tim Robinson.
" I'm a regular visitor to the Museum and know lots of the works well. But I saw many of them in a completely new way for the first time – with different colors and depth and clarity. I have problems with blue and purple so the beach and sky in the paintings of Sydney Harbour, for example, were much more clearly defined " Tim Robinson.

The University of Sydney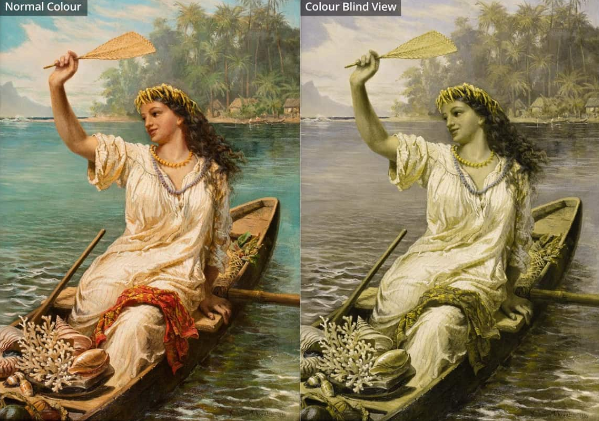 Inclusivity goals ?
The glasses are created by an independent US company called Enchroma. It is based in Berkeley, California and it develops leading patented lens technology to improve the lives of people with color vision deficiency. . Thereby, EnChroma's motto is "It's not just about seeing color, it's about seeing the world."
With the rise of digital, platforms must offer solutions that lead to digital inclusion. For instance, Apple allows users to navigate their Iphones with correcting color filters.
Nevertheless, EnChroma says that their glasses are effective for eight in ten people. It will work for red-green color-blindness but won't be right for those with the blue-yellow color-blindness or the super very rare total lack of colors. Actually, not every color-blind person will benefit from this progress.
Also, as we mentioned earlier, the glasses' price is a very barrier. Indeed, they are available from $299 to $514 according to the state of color-blindness.
Finally, these glasses are a huge progress in a cultural way. However, it does not completely change the life of color-blind people. In fact, some of them can't afford such glasses and after a visit to the museum, they will go back outside, seeing the world as usual soon. But it is nice to know that if they want to see the real colors, they can.