One of the most tumultuous weeks ever happened in Peru. The last 7th of December marked a new turning point for the Peruvian political system. President for sixteen months, Pedro Cadillo has just been removed from his powers by the parliament. One hundred and one parliamentarians have voted for its deposition. With the right-wing opposition in the majority in the Congress and a third motion voted which passed in a year and half, he raised his enemies against him.
To assure the power, it is the vice-president, Dina Boluarte who took over the reins of government. This very woman, the new head of state, suggested advancing the following presidential election in 2024 instead of 2026. And she proposed a new government with an independent and technical profile. Since this proposition, manifestations have taken over every part of the country, from the North till the South and West and Est.
The government added a new solution hoping to contain the anger of people by increasing till 10% the minimum wage and exempt fuel from VAT.
Rechazo la decisión de Pedro Castillo de perpetrar el quiebre del orden constitucional con el cierre del Congreso. Se trata de un golpe de Estado que agrava la crisis política e institucional que la sociedad peruana tendrá que superar con estricto apego a la ley.

— Dina Boluarte Z. (@DinaErcilia) December 7, 2022
"I reject Pedro Castillo's decision to perpetrate the breakdown of the constitutional order by closing the Congress. This is an overthrow that aggravates the political and institutional crisis that Peruvian society will have to overcome with strict adherence to the law."

Dina Boluarte, the sixth president of the country
While Dina Boluarte succeeds at the head of Peru, Castillo's supporters are against her politics and want the comeback of their former President. Therefore, they refuse this institutional change.
What are demonstrators claiming ?
Only a few days after Boluarte's nomination, demonstrators ran over the streets and roads to show their discontentment. Tensions erupted between supporters and opponents of the former president. Since December 7, at least 10 persons have died during clashes between demonstrators. First, they claim early elections. Then, they accuse petrol price which has increased, food inflation, insufficient wages. The whole thing feeds by a context of political instability and pandemic. Moreover, the Arequipa airport was blocked by 2.000 protestors, then farmers and transporters called for a national strike. It began with the Pan-American road closed by transporters. Therefore, Peru declares a national state of emergency for 30 days.
An unease that lasts
Elected for its social program, Pedro Castillo's mandate did not end as successfully as it was hoped. The political situation is currently getting worse, but that is not new. This political crisis in Peru has been lasting for years. In six years, Peru has seen six Presidents. Since Pedro Castillo took over the country, sixteen months ago, five governments followed. He lost his minister's confidence, some of them have even resigned and police and the army have not supported him. The day he was destitute, Castillo announced the dissolution of the parliament, the destitution of the Congress, reform of the Constitution and ruling by decree.
Who is Pedro Castillo ?
Born in 1969, the former teacher became President of Peru in 2021. He comes from the Peruvian countryside. The man grew up with his parents in a rural region with a lack of access to health care and school.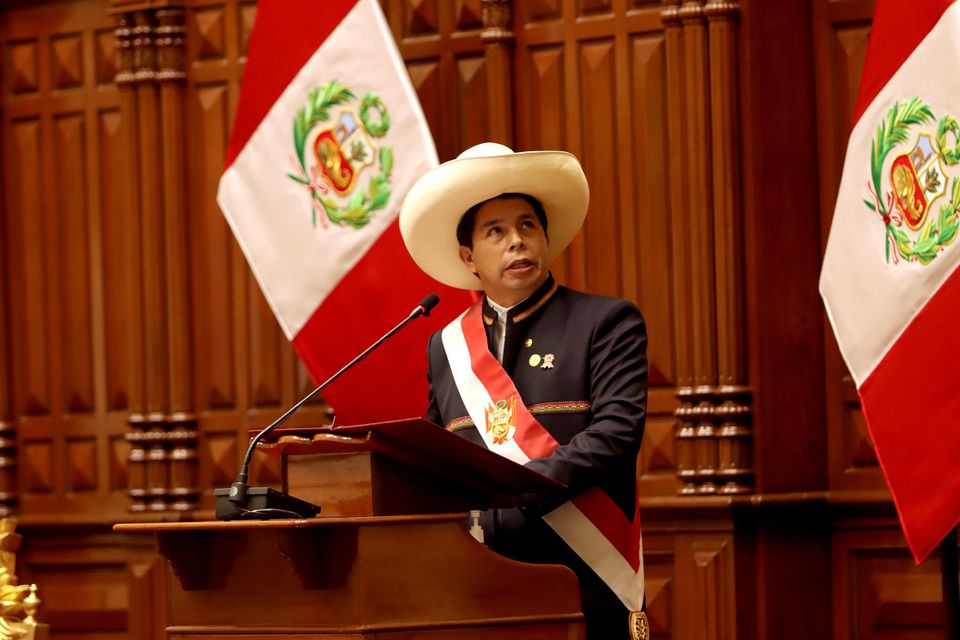 Castillo became a union activist helping to organize a strike for better pay for teachers. As he took his role of President, he promised to put an end to corruption. He ran on the slogan "No more poor people in a rich country". A year and half later, Pedro Castillo's name is mentioned six times in investigation for corruption.
The ex-President's stay in jail
Under the influence of an investigation for "rebellion" after his failed attempt to dissolve the Parliament, Pedro Castillo was maintained, Thursday, December 15 in provisional detention for eighteen months by the Supreme Court of Peru.