A tradition of conflict
The Caucasus is a mountainous region north of Iran and between the Black Sea and the Caspian Sea. Apart from Armenia and Azerbaijan, the Caucasus also includes Georgia and parts of southern Russia. A multi-ethnic region, it has long been the subject of disputes, tensions and larger power struggles.
Both Armenia and Azerbaijan were part of the Soviet Republic as autonomous regions, and only gained independence in 1991. The tensions between the two countries however found their origin in the 1970s, when disputes over the Nagorno-Karabakh region arose. Despite being formally part of Azerbaijan, the region was mainly populated by Armenians, who demanded a secession from Azerbaijan to rejoin Armenia.
The violence committed on both sides culminated in the First Nagorno-Karabakh War, which lasted six years, finishing in 1994. Its brutal course left several ten thousand dead and displaced over a million people in the region. It ended with an Armenian victory and a de facto unification of Nagorno-Karabakh with Armenia. The territory retains however a somewhat unclear status until today, and despite being under Armenian control, it retained some autonomy through the foundation of the Republic of Artsakh in Nagorno-Karabakh, which is recognised internationally only to a small extent.
From war to peace?
The clashes over the past two decades have been numerous, with bigger eruptions of violence in 2008, 2010, 2012, 2014, 2016 and 2018. This frequency highlights the profound instability and hostility that remains between Armenians and Azeris. In 2020, the tensions rose to such a level that war was declared in November 2020. This conflict, termed either the 44-Day War or the Second Nagorno-Karabakh War, caused over 5,000 deaths and was marked by particular brutality in the use of drone strikes and shelling, which had a severe impact on civilians in Nagorno-Karabakh.
This second war in November 2020 ended with a formal victory for Azerbaijan and Armenia being forced to return parts of the disputed Karabakh region to Baku after two decades of these territories being under de facto Armenian control, as Azerbaijan had captured them during the active conflict. Russia had an extensive role in mediating the accord; previously, ceasefires brokered by the US and France had failed to end the fighting. Since then, there has been peace – officially.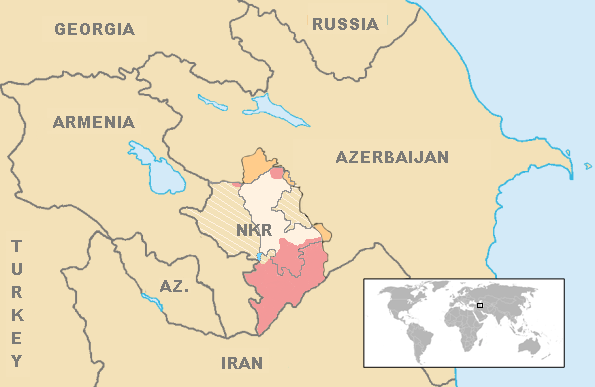 A peaceful façade
2021 has however proved the notion of peace to be very wrong. Despite there not being an official war, multiple military clashes have occurred at the border, and the tensions have remained at an extremely high level. In several instances, soldiers engaged in exchanges of fire at the redrawn Azeri-Armenian border, and propaganda campaigns continued on both sides.
One year after the war, reports of increased military activity at the border became more numerous. Clashes became particularly deadly in November 2021. Soldiers also exchanged fire despite the official cease-fire accord in early December 2021. The Armenian Defence Ministry announced at least one fatality related to the clahses and denounced an "attack" by Azeri soldiers on 10 December. On the Azeri side, Armenia was accused of aggression and "provocation".
A conflict entrenched in identity
It is important to situate the conflict in a wider context of international alliances: as former Soviet Republics, both Armenia and Azerbaijan continue to be of interest to Russia as economic and political allies; in the tensions between the two countries, Russia has however frequently taken the side of Armenia, in particular as Azerbaijan receives official support from Turkey. The relation between Russia and Turkey as larger involved powers is arguably complicated, ranging from mistrust to cooperation when it is necessary. In the Nagorno-Karabakh conflict, both powers advocated for peace and have played an essential role in hosting peace talks. Overall, neither of these allies, despite their occasional disagreements, have much interest in continuing instability in the Caucasus. Their political and military support to respectively Armenia and Azerbaijan have however not contributed to easing the tensions.
Although often denied, the tensions between the two countries also find their origin in ethnic and religious differences: while Armenia is Christian in religious terms, Azerbaijan is inhabited by a predominantly Muslim population. In previous conflicts between the two countries, the destruction of religious spaces and buildings such as churches or mosques was a regular occurrence. However, the ongoing tensions cannot be explained by this alone. Indeed, the conflict has become entrenched in the very identities of the two countries. No matter who controls Nagorno-Karabakh, the tensions do not disappear. The violence and conflict have become attritional, and true peace is not in sight, even if it is the case officially.
A bleak future?
Despite diplomatic interventions from Russia, Turkey, or calls for peace from NATO and the US, the border conflict in the Caucasus can only be resolved if both belligerent parties are willing to do so. The propaganda-like military rhetoric from Azeri President Aliyev and his Armenian counterpart Pashinyan leave however little hope that this will be the case any time soon. Without profound diplomatic and political change, a Third Nagorno-Karabakh War is therefore still in the cards.
Vocabulary
disputed = contesté
attritional = épuisant; continué
shelling = bombardement
entrenched = ancré, enraciné
belligerent = belligérant