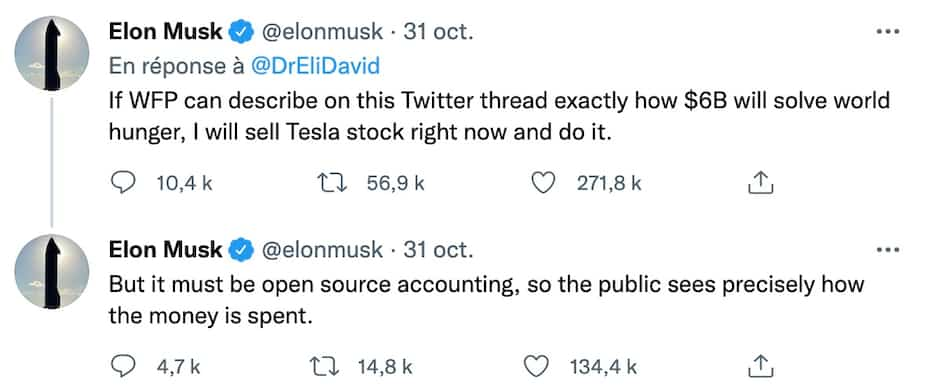 « If WFP can describe on this Twitter thread exactly how $6B will solve world hunger, I will sell Tesla stock right now and do it »

https://edition.cnn.com/2021/10/26/economy/musk-world-hunger-wfp-intl/index.html
David Breasley affirmed that only 2% of Elon Musk's fortune, that is to say 6 billions dollars, could « help solve world hunger », and more precisely aid 42 millions of people in urgent need of food assistance. This proposition seems to be so simple and evident that the director of the organization added « It's not complicated ».
Elon Musk did not delay in publishing his answer through the social media network Twitter. If the World Food Programme (WFP) could propose an action plan explaining in what ways 6 billions could save the world hunger, he would « sell Tesla stock right now and do it », and added, as corresponding to his somewhat eccentric image « But it must be open source accounting, so the public sees precisely how the money is spent ». 
Tesla already favours a sustainable approach
Indeed, the fortunes of Elon Musk and Jeff Bezos, the two richest men on earth, amount respectively to 281 and 201 billion USD in 2021. Elon Musk's fortune was built mainly by his two companies Tesla, a company of electric car manufacturers and Space X, which builds satellite launchers. Both companies are committed to a sustainable approach according to Musk. According to its Environmental, Social and Governance Report (ESG report), Tesla has taken steps to complete some Sustainable Development Goals (SDGs) issued by the UN, such as climate action or clean energy, notably through the clean energy ecosystem which Tesla is developing. The SDGs have an economic value for companies, since they would allow them to be more competitive, resilient and successful; furthermore, they aid their development of a market opportunities with 12 trillion dollars per year by 2030 and over 380 million jobs in the process.
As Elon Musk is already part of a sustainable approach, is it likely that he invests with the help of Tesla to the services of SDGs of ending hunger around the world ? 
A highlight of the problem of famine in the world
The provocative but realistic article about these wealthier men relieving the world's hunger situation : « Every day 25,000 people die of hunger ». Although the notion of famine is not ahead of the scene in developing countries, it remains one of the most important outcomes of the UN. In fact the Covid-19 has worsened the situation of global famine, notably through the repercussions of the financial and economic insecurity. 
"Every day, 25,000 people die of hunger" (UN organization)

https://www.un.org/fr/chronicle/article/chaque-jour-25-000-personnes-meurent-de-faim
The UN set its global objectives to reduce the problem of hunger, and aims to achieve a profound change in the global food and agriculture system, increasing the capacity of agricultural productivity and strengthening sustainable food production systems. 
To achieve these results, the total amount will be raised to 267 billion dollars a year until 2030, much higher than the 6 trillion dollar donation requested through the TV channel. So the UN food scarcity organization could indeed put in place measures to achieve its objectives with the help of Elon Musk, but will not be an end to this fight. This important difference suggests that the UN wanted to send a message and shine a light on the dramatic situation of the famine through American television, but also the social networks that have become one of the main means of information for the population. Thus, the expected reaction of Elon Musk due to his reputation and high follower count on social media, suggested the mediatic extent of this action by the UN. 
Vocabulary :
sustainable = renouvelable 
ESG report = Environmental, Social and Governance report
relieve = détendre, résoudre